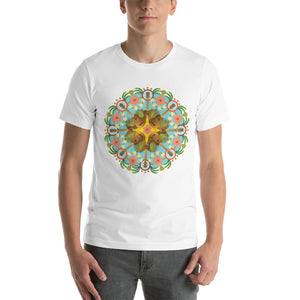 "Each person's life is like a mandala – a vast, limitless circle. We stand in the center of our own circle, and everything we see, hear and think forms the mandala of our life."
A DKGriffinArt original - Ukulele Mandala Tee Shirt feels soft and light, with just the right amount of stretch. It's comfortable and the unisex cut is flattering for both men and women. We can't compliment this shirt enough – it's one of our crowd favorites. And it's sure to be your next favorite too!
Size: Large
Thomas is so happy about his new ukulele tee shirt that he wrote a song.