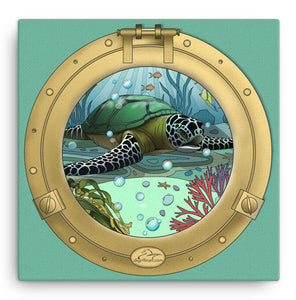 Sea Turtle Port Hole, original painting by David K. Griffin.

Another fan-favorite - turtle lovers love this one. It's easy to imagine peering through the port hole at this serene under-water scene. 
Sea Turtle Port Hole comes ready-to-hang with mounting brackets included - centered on frame. Hand-glues solid wood stretcher bars. 1.5" deep. Printed on textured and fade-resistant canvas (acid free, PH neutral, poly-cotton base. Size: 12" x 12"
Need a different proportionate size" Contact David: info@dkgriffinart.com for all inquiries and commissions.
You may also be interested in my Sea Turtle Beach Towel. Check it out!