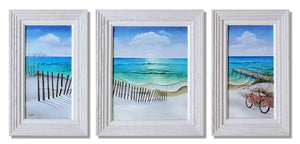 Beautifully Painted and Framed Triptych -  it's an original!
An original triptych painting on canvas by David K. Griffin. Beach lovers - this one is the real statement piece you're looking for. Puffy clouds in a sultry summer sky float above a wave  aqua ocean. The bicycle, fence and dock are skillfully painted with nice detail. 
Professionally framed - two part solid wood, stressed finished frame with French-style mat. Each framed canvas panel hangs separately.   
Size: 2 - 16" x 24", 1 - 28" x 24" (framed) Overall size when framed and hung (with 2" between canvases)fills a  64" x 24" area.