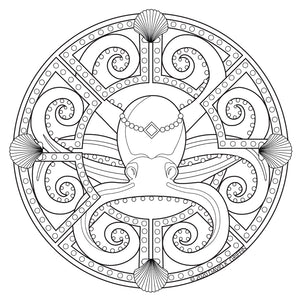 I N T R O D U C I N G


Tropical Mandala Coloring Book Pages

by Artist David K. Griffin
Family and friends will enjoy coloring, Octo, The Octopus, the second in a series of designs by artist and designer, David K. Griffin. Introductory offer! NOW ONLY $1 per page. That's right, just one buck for a high resolution .pdf page emailed directly to you or a friend.
Stay tuned in by signing up for our newsletter announcing new designs. Expect Sea Turtle Mandalas, Pink Flamingo Mandalas, Hibiscus Flower Mandalas and more!
What is your favorite tropical image? Send suggestions to Info@dkgriffinart.com and maybe your idea will be published in my NEW! Tropical Mandala Coloring Book. This will be a published, printed 16 - 20 page book with a full color glossy cover - just like my first coloring book - Tropical Florida by David K. Griffin - Only $16.99.